The Voice On My Shoulder
3rd September 2014
When I write, I hear voices in my head.
There, I've said it.
Does this mean I'm crazy?
The voice that comes to me is the protagonist.  And over time, that voice becomes louder and more demanding.  The voice becomes a personality and it becomes real to me.  In my head.  Eventually their voice becomes insistent, demanding that I tell their story.
Is this normal?
When I wrote Measuring Up it was the voice of "Feet", aka Jonah Worthy, that stormed into my consciousness.  He started out as this awkward teenage boy, just putting random statements into my thought patterns.  But by the time I'd written my first draft, I kept noticing boobs and thinking  phoar!  And one day I came home from the Newsagents with a copy of Tracks surf mag.  The young lad who served me had given me a very strange look; maybe because I was a 31 year old woman.  Or maybe because I was six months pregnant.
When I met Meg Mundell (author, journo, funny kiwi) at Varuna The Writers House, she suggested that I was a "method writer".  I like that idea; adopting the role of protagonist until it consumes me.
These days though, there's a new voice whispering to me.  She's not my protagonist; her story is not mine to tell.  Her voice doesn't live in my head.  Instead, she's on my shoulder – reminding me I'm talented and that I can do this and that my stories are worth telling.  Many years ago when I didn't think I could write any more, she promised me that I could.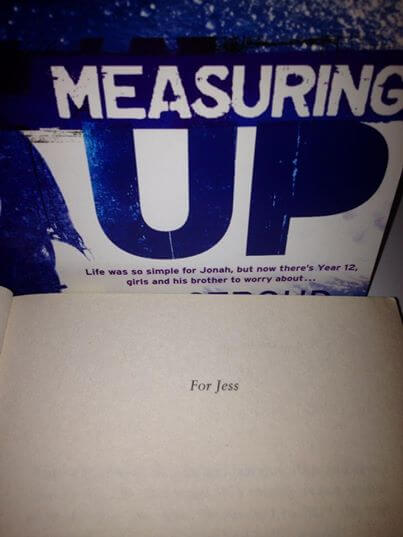 That's why the dedication in Measuring Up is for her.
And everything I ever write will be dedicated to her.
I'm glad you're on my shoulder, Jess.  But I miss you too.
Jessica Halligan-Rose (19/9/82 – 9/11/13)
Write In Peace